Archives for February 2016
If you would like to be notified by email when a new post is made here, please sign up HERE
Earlier this week as the major indices approached their February highs, I wrote about the need for a quick pause to refresh in Bulls Retreat for More Ammo. While I didn't believe the rally was over, it was the first attempt against a widely followed price level and that usually fails the first time.
It's now three days later and after two days of pause, the bulls have come roaring back with back to back late day surges with excellent and broad participation as well as volume. With the majority still not believing this rally which I forecast from the day of the bottom, more upside should be ahead over the coming months as long as the downside damage is relatively tame.
(As an aside, what happened to all of the talk about China causing our market problems and leading us lower? After the Shanghai collapsed by another 6%+, our stock market just shrugged it off and headed higher.)
The chart of the S&P 500 below isn't new. I just updated it as well as added two other indices, the Dow Industrials and the S&P 400. This frames the intermediate-term of more potential upside through Q2 as well as showing the levels that should be focused on. Keep in mind that stocks could once again pull back over the coming few days, but it should not be significant.
The popular Dow Jones Industrials are next and that index also shows the potential for some decent upside over the coming months.
The S&P 400 (midcap) is next and it, too, shows the potential for another 7% on the upside as long as the downside remains limited. This index, however, remains weaker over the intermediate-term but stronger in the short-term.
If you would like to be notified by email when a new post is made here, please sign up HERE.
If you would like to be notified by email when a new post is made here, please sign up HERE
After 6 essentially straight up days for stocks off the February lows, it's time for a breather or pause to refresh. In one fell swoop, the major indices have gone from the precipice of collapse to strong initiation of a rally. Sentiment saw despondency. Mutual fund flows were very defensive, Price action had panic. The breadth and breadth volume thrust off the bottom has been powerful and dramatic and portends higher prices into spring… with one familiar caveat.
As I wrote about in Street$marts, there was a single line in the sand which has now been doubled. As you can see below, if prices close above their February peak, the line in the sand will be breached and the bulls will be in control. Should prices decline below the February lows, the bears will be firmly in control.
Looking at the S&P 500 below, Monday's strong rally just got up to the line in the sand, but couldn't quite close above it yet. On the first attempt, it's more than normal to see prices back off for a few days to a week before assaulting and overcoming those levels again. The Dow Industrials have already closed above its line in the sand along with the S&P 400. However, the Russell 2000 and NASDAQ 100 still have some upside work left.
Assuming the S&P 500 does finally close above 1947, that will also confirm the double bottom I wrote about in Street$marts. The find the upside price target, you simply double the size of the rally from the February low to 1947, which gets you to roughly the 2080 area on the S&P 500 by the end of Q2. On the Dow, that's about 17,500.
If you would like to be notified by email when a new post is made here, please sign up HERE.
If you would like to be notified by email when a new post is made here, please sign up HERE
What a wonderful three days it's been for the bulls since I posted Yet ANOTHER Potential Low last week at the bottom. In fact, it has been one of the most powerful rallies off of a low in history in terms of the number of stocks advancing and declining along with their volume. That gives us a very overbought market in the short-term, but one that just emerging from being very oversold intermediate-term.
After such strong thrusts off a bottom, there is a really a binary outcome. If the bulls can hold on and keep stocks from declining much over the next week, that will be a total change of character for this market and indicate that much higher prices are in order over the coming months. That would also create a fairly significant short squeeze.
On the other hand, if the bears can make any meaningful headway over the coming five days, it will be a huge blow to the bulls and jeopardize not only the rally so far,  but also the price levels seen at the bottom last week.
In short, it looks like stocks are either heading higher by at least 10% over the coming quarter and a half or on the verge of another collapse. Given the evidence at hand, I have to side with the bulls and look for the Dow to see at least 17,500.
If you would like to be notified by email when a new post is made here, please sign up HERE.
If you would like to be notified by email when a new post is made here, please sign up HERE
For the second time in a week, stocks are trying to hammer out at least a trading low. Market action has not been good this whole quarter, but lately it has become so bad that it could be approaching washed out. February's decline isn't surprising given that down 5% months like we had in January typically lead to another lower month, but it has been on the ugly side for the bulls.
It now looks like the major indices have revisited or retested the internal or momentum low seen in January. Whether that's successful or not remains to be seen. Stocks need to close above their February highs to signal a stronger and longer lasting rally and those levels are a good 5% higher. I mentioned before that if the major indices retest their January bottom too soon (I was looking for March) it may not create a stable enough base for a good rally to develop. Think of this like standing in a windstorm. If you are feet are close together, your base is narrow and you will be more easily blown over. However, if you widen your stance, you have better support and will be able to stand firmer for longer. That's how the market operate after a decline. They a firm foundation.
On the sector front, I am not seeing "healthy" leadership from semis, banks and discretionary. Utilities and staples are leading with transports, materials and industrials in the early stages. That needs to change if any rally is going to last.
Bonds and gold have been the big beneficiaries of the decline in stocks and both have gone vertical of late in a supposed "flight to quality". That is debatable. Both look like they peaked on Thursday and should see some short-term weakness or digestion before heading higher if that's their ultimate path. Gold itself saw massive volume this week in what I see as a buying panic. Historically, that has spelled the end of the rally in most cases. However, if the gold bugs can fight off the bears and keep gold from declining over the next week or so, this could end up being one of the rare cases where strength begets strength. We'll see and for now, I am favoring the former until proven otherwise.
Along with bonds and gold, the Japanese Yen has also gone vertical in what must make the Bank of Japan central bankers apoplectic after they kind of, sort of went to negative interest rates. Crude oil is really trying to bottom here, but I would rather see it start to go up on bad news than just see these short-term spikes on rumors of OPEC productions cuts.
If you would like to be notified by email when a new post is made here, please sign up HERE.
If you would like to be notified by email when a new post is made here, please sign up HERE
The major stock indices took it on the chin to begin the new week, following through from Friday's decline. Coming in to the week, I said that unlike the previous week, it was now time for the bulls to take a stand. If they didn't then a full re-test of the January low was likely up next, something that makes me a little uncomfortable because it shouldn't be this quick. Should this test fail and the S&P 500 close below 2015's low, it would open up a new scenario of very sharp and fierce trap door selling.
For most of Monday's trading, the bears were firmly in control and it was on the verge of getting ugly. The last two hours saw the bulls roaring in to close the indices well off their lows. Monday's lows were not uniform as the Russell 2000 and NASDAQ 100 exceeded January while the Dow, S&P 500 and S&P 400 did not. Once again, we have another opportunity to see at least a trading low. For that to happen the bulls need to defend this week's low and make some upside progress by the end of the week.
Sentiment is once again cycling back towards overly pessimistic and the new COT data on small speculators has reached levels where good rallies have developed. It has been a solid indicator with the exception of 2008.
On the sector front, transports have gone from laggard to leader, but it's not time to celebrate that just yet. Banks, semis and discretionary are still not acting well and that needs to change. Staples, industrials, materials and energy have become leaders, but those are typically not the groups in healthy rallies.
If you would like to be notified by email when a new post is made here, please sign up HERE.
If you would like to be notified by email when a new post is made here, please sign up HERE
On January 22nd and January 29th, an extremely rare occurrence was seen in the stock market; something that had only happened 9 times since 1971. Over a span of five days, there were two days where 90% of the trading volume on the New York Stock Exchange took place in stocks that were up on the day.
90% volume days are nothing new to analysts. They have been watched since the days of Jesse Livermore in the 1920s. However, two so close together is a rare feat and something that should be watched very closely. Pre-2007, these events, most commonly known as breadth volume thrusts, were as rare as a pink rhino and always led to a new or refreshed bull market. Starting in 2007, however, these events have been seen roughly once every year and a half and their behavior has changed somewhat.
What changed?
In July 2007, the SEC eliminated the uptick rule which had been in place since the 1930s to prevent short sellers from piling on a stock that was accelerating to the downside. (Short selling is the exact opposite of buying. One sells a stock they technically do not own in hopes of buying it back at lower prices.)
On the surface, I would have thought that these events would occur more frequently after the SEC eliminated trading stocks in fractions in 2001 and went to full decimalization. This change basically eliminated stocks closing unchanged on the day. Upon deeper analysis, the real culprit beginning in 2007 after the uptick rule was eliminated was the much maligned algorithmic or high frequency trading. This acutely hyper and ultra short-term computer driven trading exacerbates moves, especially on the most lopsided trading days which just happen to be on the days in question.
Getting back to the original topic at hand, the breadth volume thrust, let's dive in to the previous 9 occurrences to see similarities and differences. In 1971, it hit as stocks emerged from a bear market and never looked back over the ensuing few quarters. The drawdown or paper loss was 0.
It took 11 years for the next thrust to appear in 1982, again as a new bull market was launching. As with 1971, the market never looked back and there was not any drawdown seen.
Two years later in 1984, there was another thrust as stocks were emerging from a bear market. As with the previous two occurrences, stocks just powered ahead without any paper loss at all.
January 1987 was next and that makes it four for four with stocks never looking back although this time, the market wasn't emerging from a bear market. A subtle change took place.
During the entire, historic bull market of the 1990s, there was not a single thrust. Not after the 1990 bottom nor the 1998 one. Even coming out of the 2000-2002 bear market, there were no thrusts. It wasn't until the uptick rule was eliminated in July 2007 did we see another thrust. This one occurred after a routine 10% correction in stocks.
Unlike all previous thrusts, stocks saw what I will call an immediate pullback or quick bout of weakness. Additionally, stocks did see a drawdown or paper loss over the following few quarters. In this case, it was 13.57% and the thrust turned out to be a failure in hindsight after stocks rolled over for good in May 2008.
A little more than year later in November 2008, another thrust took place. I vividly remember this one as it looked to me like stocks were finally bottoming. It was the perfect thrust like we saw in the 1980s, or so I thought. But as with 2007, stocks saw the immediate pullback before heading higher over the short-term. Additionally, the maximum paper loss was a painful 23% over the next quarter.
After the Flash Crash in early May 2010, the breadth volume thrust hit again. And as we saw with all thrusts since the SEC eliminated the uptick rule in 2007, there was an immediate pullback and stocks did not run away. There was also a 7.34% drawdown before the bulls were handsomely rewarded.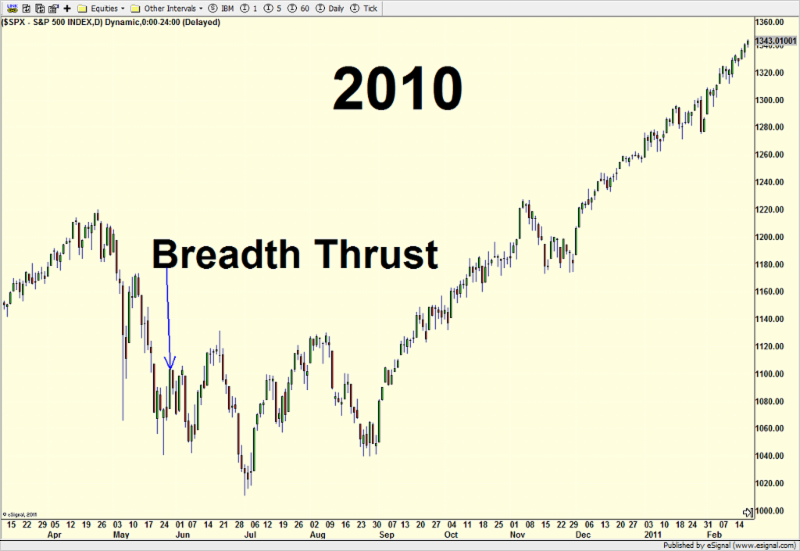 Following an almost 20% waterfall decline during the summer of 2011, the thrust was seen again in August. As with the previous three cases, there was an immediate pullback and stocks did not run away unfettered. Bulls also had to tolerate a modest 6.23% drawdown before being hugely rewarded.
Finally, in 2012 after a less than 10% decline, a thrust hit in very timely manner and stocks never looked back, nor was there an immediate pullback.
This brings us to 2016 and the current thrust, which occurred after an almost 15% correction in stocks. On the surface, this reminds me most of 2011 so far. With stocks declining on Tuesday, the immediate pullback scenario looks to be in play, but it's too early to tell what kind of drawdown may be seen. If 2011 continues to play out, there should be some modest upside shortly, followed by the drawdown and then a better rally.
What was an ironclad, close your eyes and back up the truck buy signal has morphed as the markets have evolved. Clearly, the elimination of the uptick rule and proliferation of computer driven, algorithmic trading has reduced the immediate effectiveness of the the breadth volume thrust. However, it should still be followed closely with the post 2006 behavior being the new norm.
As I was writing this article, an email came in from Rob Hanna who runs Quantifiable Edges newsletter with the same research thought. Thanks Rob, as always, for sharing!
If you would like to be notified by email when a new post is made here, please sign up HERE.
If you would like to be notified by email when a new post is made here, please sign up HERE
On January 21st, I put out this piece calling for the internal or momentum low. That was the bottom where stocks stopped going down in accelerated fashion and the majority of the damage was done. Typically, that's not the low where the strong rally begins. That's later. In this case, from a low in March and then into Q2.
http://www.investfortomorrow.com/newsletter/CurrentStreet$marts20160121.pdf
I know I have beaten the proverbial dead horse when I say that 2016 looks nothing like 2008 from an economic or fundamental point of view. I don't see any reasonable chance that the markets in general behave anywhere close to the way they in 2008.
http://investfortomorrowblog.com/archives/2085
The only valid similarity has been a price analog that I began discussing in early January. Price analogs have been used for decades, across countries, asset classes, etc. Eventually, every single one of them breaks apart.
With that in mind, let's update the price chart for the S&P 500 from 2008 and 2016 through today.
In 2008, as I have mentioned before, stocks declined right out of the gate, but really just continued a correction that began in late 2007 as you can see below. Prices really accelerated lower into MLK weekend and bottomed when the markets reopened on Tuesday. From the low, there was an 8 day rally to relieve the very oversold nature of the market.
2016 has also seen selling right from the start, but really just continuing the correction that began in late 2015. Selling was strong into the MLK weekend and stocks bottomed on the Tuesday after. Just like with 2008, the initial rally lasted 8 days.
IF the price analog continues, stocks should see a secondary low later this week and embark on another rally towards Monday's peak. Remember, again, that eventually ALL analogs diverge and knowing when is the key!

In summary, while this comparison looks really nice on a chart, it's also something I have written about before from other analysis I have done. I keep referring to March as the time when the stock market should begin the real rally, where the January bottom was when the majority of the damage would end and stocks would stop going down. It's also a presidential election year and Q1 bottoms are also typically seen in March.
If you would like to be notified by email when a new post is made here, please sign up HERE.
If you would like to be notified by email when a new post is made here, please sign up HERE
All I heard Friday was how "surprised" everyone was with the magnitude of the rally. If people were paying attention, it was anything but a shock. I spoke about the internal or momentum low being hammered in the very day it happened and regardless of what it would lead to, stocks had to rally first. And rally they have!
Friday's activity saw the second 90% up day in volume over a one week span. Historically, that has been very bullish, even during bear markets. Bears should not discount that buying thrust just yet. All I heard as stocks were bottoming was that everyone should "sell the rally". Well, my bearish friends; you got that opportunity but you have been noticeably quiet of late.
The bulls put in one heck of a show late last week in the face of weaker than expected economic news. Heading in to the new week, the bears really need to step up early and make some noise. The longer the bulls can hang on and keep the major indices from giving back Friday's gain, the more likely we will see another strong move higher. Pausing to digest is fine and expected, but not much more, 1900 ish on the S&P 500.
After a low, the most beaten down tend to rally the hardest before real leadership emerges. From a chart and trend point of view, staples and utilities appear to be the healthiest and that's not exactly the type of leaders we want to see. That reminds me of 2000. But it's still early.
Treasury bonds also partied with stocks, something we haven't seen in a while coming out of a bottom. Famed hedge fund investor, Ray Dalio from Bridgewater, who is often dour, commented that with stocks and bonds both declining, that looks depressionary. I wonder if that means explosive expansion with stocks and bonds both rallying lately?!?!
If you would like to be notified by email when a new post is made here, please sign up HERE.
If you would like to be notified by email when a new post is made here, please sign up HERE